BUSINESS PROCESS MODELING
Undestanding the process: the initial step for higher productivity and efficiency
Domingues e Pinho, through its Process Office offers consulting in business process modeling, which consists of mapping, optimizing, and documenting, in a clear and personalized way, the internal processes flow of your company.
Why Processes Modeling in your business?
How implement improvements without knowing the processes?
How make your company more competitive without identifying where the failures are?
It is precisely because of these issues that the process modeling becomes so important. It is crucial to know in depth all internal routines and procedures involved in the business and the impact of each one on the company's results.
Only with the real view of all processes and resources, it is possible to define strategies and make improvements to achieve significant and sustainable gains in productivity and competitiveness.
Domingues e Pinho has skilled consultants with appropriate experience and methodology on process modeling, investigating failures, inconsistencies, bottlenecks and redundancies, as well as unidentified risky situations.
Our professionals also help companies during mergers or acquisition process where is essential to the acquirer company learn about processes from acquired company to a smoothly and successfully integration.
The entire DPC's work scope is tailored, which may be adapted according each client's needs.
Advantages of Business Processes Modeling
Knowledge of all processes: more control.
Grounds for decision making.
Diagnosing of bottlenecks and failures in operations.
Identifying improvements and definition of standards.
Increase in productivity.
Improving the working environment.
Eliminating redundancies.
Cost Optimization.
Improvement of the quality of services/products.
Profitability increase.
DPC Process Modeling Consulting enables your company to map:
how the business unit works;
how and when the process activities are performed; and,
which are the agents involved in each step.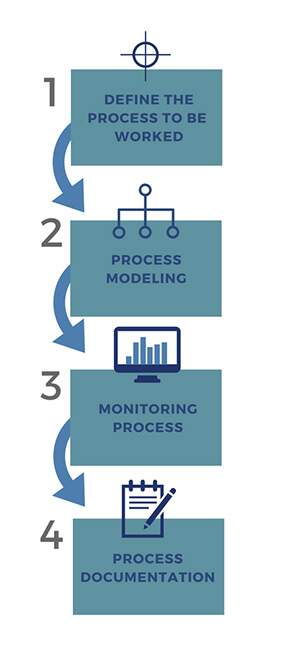 The project comprehends 4 phases:
Step 1: Define processes to be worked on
The client, together with DPC consultants' team, establishes the procedures that will be analyzed in the project. For each process, the participation of internal company member is vital.
Step 2: Processes mapping
DPC consultants and the internal company member draw up an activities flow showing how the process currently occurs, also known as AS-IS flow. To prepare the AS-IS flow, the Bizagi tool is used, following the BPMN notation.
Step 3: Monitoring Process
The Monitoring Process are meetings in which DPC team and internal company member seek to identify, through a standard methodology, the difficulties all over the processes and what improvements shall be applied. One of these meetings are held at work environment so that DPC team may raise issues not addressed at the other meetings.
Step 4: Process documentation
After data and information collection, DPC's team prepare a standard, clear, and objective document, which will serve as basis for analysis and improvement of organizational processes.
Providing its services for both individuals and companies, DPC performs the procedures for issuing and renewing digital certificates all the way through.
Sign up for our Newsletter:
Are you interested?
Please contact us, so we can understand your demand and offer the best solution for you and your company.

Rio de Janeiro
Av. Rio Branco 311, 4º e 10º andar - Centro
CEP 20040-903 | Tel: +55 (21) 3231-3700
São Paulo
Rua do Paraíso 45, 4º andar - Paraíso
CEP 04103-000 | Tel: +55 (11) 3330-3330
Macaé
Rua Teixeira de Gouveia 989, sala 302 - Centro
CEP 27910-110 | Tel: +55 (22) 2773-3318