DPC has more than 600 national and foreign clients, from medium-sized to large companies, in several business areas: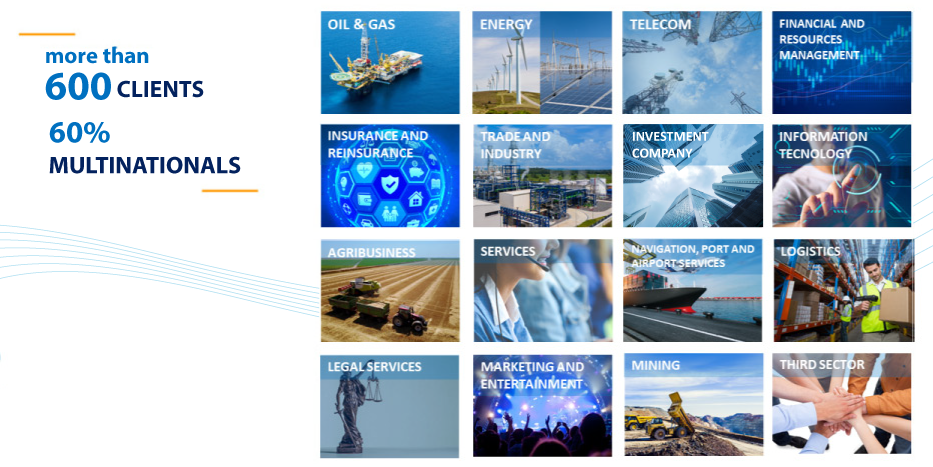 We encountered difficulties in finding an outsourcing service aligned in compliance with the legislation of Rio de Janeiro. We contracted DPC for being a reference in outsourcing in Rio de Janeiro, specifically for the oil and gas sector. We are well served, both in terms of time and quality.
PETROGAL

In a situation such as the one in Brazil, where tax laws and regulations are created or changed all the time, it is much easier to leave the accounting to a firm specialized in accounting and tax advice. We chose DPC for being a benchmark in the accounting segment and for serving other large clients. This partnership has lasted more than a decade. The team attends us closely, knows our particularities and is in continuous search for improvement.
VEIRANO ADVOGADOS

The DPC was chosen by the need for know-how and expertise of a recognized accounting firm in the market. The entire staff and corporate structure are always available to solve the various accounting, tax and labor issues that a company faces in its day-to-day business, in the complex tax and labor scenario in the country. Safety and efficiency in dealing with accounting, tax and labor issues, which gives us peace of mind to invest our focus and time in our projects.
OLISUR

DPC positions itself directly as part of our business, alerting about lack of control and opining about processes that do not agree and that they consider wrong from the fiscal point of view. Accounting firms usually do what customers ask for without questioning, repeatedly placing them at risk. Very well organized staff that makes us unconcerned, knowing that everything is being done and so, we have time to focus on our core business.
HOMEAWAY

Excellent recommendations of great credibility led us to DPC, and when we made our assessment for the initial presentations of accountants, DPC undoubtedly showed the best development in the IT area, in addition to a strong concern for constant updates of accounting regulations for the internal and international markets.
SWISS INTERNATIONAL SCHOOL

DPC has vast knowledge on the most relevant issues, with experts in each sector. In this way, DPC is much more than an accounting firm. With knowledge of all the declarations / obligations, they are able to give us the necessary support in the fiscal area and to keep JDN updated on the last reforms or changes in legal requirements. DPC delivers a high quality and on-time service.
JAN DE NUL GROUP

It was not only the accuracy in the fulfillment of tax and legal obligations that has kept us partners for more than five years, but mainly the excellence in service and the constant availability to assist us. The full confidence in DPC's efficiency brings us tranquility to develop our business.
CIBRAMED - GLOBUS MEDICAL

The Meggitt holding through its Heatric UK Division received the recommendation to contract DPC to provide accounting, financial, tax and HR services. The references mentioned DPC as an excellent option, due to its position in the national scenario; as well as services in foreign languages.
MEGGITT

Since I began my professional life, I have always listened to the best references of DPC's quality, professionalism and professional care. Seriousness, customer care and accuracy of information ensured a total peace of mind so that Tocantins Advogados could know that it has the best possible labor practices regarding its employees, partners and customers.
TOCANTINS ADVOGADOS
Subscribe to our Newsletter:
Are you interested?
Please contact us, so we can understand your demand and offer the best solution for you and your company.

Rio de Janeiro
Av. Rio Branco 311, 4º e 10º andar - Centro
CEP 20040-903 | Tel: +55 (21) 3231-3700
São Paulo
Rua do Paraíso 45, 4º andar - Paraíso
CEP 04103-000 | Tel: +55 (11) 3330-3330
Macaé
Rua Teixeira de Gouveia 989, sala 302 - Centro
CEP 27910-110 | Tel: +55 (21) 3231-3700