Who best understands your demands.
Who best understands the complex Brazilian legislation.
Domingues e Pinho Contadores has a dedicated tax outsourcing services team highly specialized and with large knowledge in tax laws. Our team is continually updated in relation to the frequent changes demanded by Tax Authorities.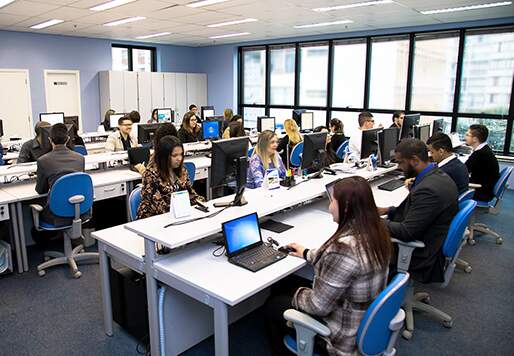 Accurate and reliable information and in compliance
The team holds responsible for tax processing, focusing on tax applied over operations (IPI-Tax on Manufactured Products, PIS - Social Integration Program, COFINS - Contribution for Social Security Financing, ICMS - Tax on Sales and ISS - Tax Over Services, observing the compliance required in the tax legislation applicable to the operations performed by the client in various segments.
In-company or external Tax Outsourcing
DPC Tax Outsourcing is tailored to fit client´s needs, with the option to allocate Professionals at client´s facilities to render services in company.
Following established process and use of technologies and support systems, DPC tax experts register, validate, and analyze data with agility, full control and safety, following well-established processes and using technologies and support systems.
Check how Domingues e Pinho Contadores' Tax Outsourcing may help your company:
Analysis of tax documents.
Preparation of Tax Bookkeeping, on the standards applicable to each Company.
Preparation and compliance of several tax statements, according to taxpayers' domicile, such as: EFD-Fiscal, EFD-Contribuições, Information and Calculation Form ("GIA"), Nova-Gia, Statement of Municipal Participation Rates ("DECLAN–IPM"), Statement on Use of Tax Benefits from Taxes on Sales and Services ("DUB-ICMS"), DOT, Simplified Export Declaration ("DSE"), among others.
Calculation of tax on operations (IPI, PIS, COFINS, ICMS, and ISS).
Tax advice and consulting, and other possible encumbrances, focused on the companies' daily operations and/or tax planning for new operations/activities, in order to guide on the best practices in line with the current legislation.
Preparation of several tax communications before inspection authorities.
Tax Review.
Support in conducting tax actions.
Prepare and follow-uo of process: consulting, special regime, refunding, and compensation.
---
Inspection
In the course of a tax inspection, all information and documentation to be delivered to the tax auditor is analyzed in advance, always with respect to ethics, cordiality, discretion and excellence in the services rendered.
DPC team is responsible for meeting the following requirements:
Municipal, State and Federal Tax Inspections.
Municipal and State consulting (internal and external)
Preparation and follow-up of Formal Consultation, Special Regime, Agreement Terms and other communications that may be required by the Tax Authorities.
<h1>2022 Income Tax: what to do in case of tax audits, rectifications and late submissions?</h1> <br /> <p>The 2022 Income Tax season has come to an

[…]
Sign up for our Newsletter:
DPC's Differentials
Better control. Better management. Better performance.

Expertise
Professionals with highly speacialized knowledge of each area, continuosly updated.

Compliance
With ethics and transparency, in compliance with local and international accounting standards.

Integrated services and efficiency increase
Integration enables data exchange and higher precision, optimizing costs and processes.

Operation in Brazilian Territory and Abroad
37 GBrasil correspondent companies in major Brazilian cities and more than 100 IGAL partners in 45 countries.

Technology
IT tools always up to date, meeting the constant taxes demands, allowing total control, agility and security.

Customized management reports
Customized, meeting each client´s needs, with accurate and reliable indicators for decision-making.
Are you interested?
Please contact us, so we can understand your demand and offer the best solution for you and your company.

Rio de Janeiro
Av. Rio Branco 311, 4º e 10º andar - Centro
CEP 20040-903 | Tel: +55 (21) 3231-3700
São Paulo
Rua do Paraíso 45, 4º andar - Paraíso
CEP 04103-000 | Tel: +55 (11) 3330-3330
Macaé
Rua Teixeira de Gouveia 989, sala 302 - Centro
CEP 27910-110 | Tel: +55 (22) 2773-3318