Consulting to be in compliance with SPED obligations with tranquility and safety
The Federal Government deployed the Public Digital Bookkeeping System ("SPED") in 2005 in order to unify the data transmission directly to government levels, improving the integration and crossing of information and inspection.
Accounting books and tax documents began to be digitally issued in compliance with legal standards. The number of physical documents dramatically decreased. On the other hand, the number of information and the level of details increased.
Every year, improvements and new implementations are executed on the digital bookkeeping procedures in force, moreover, constant changes are required by the tax authorities. In 2015, the Accounting Tax Bookkeeping (Escrituração Contábil Fiscal - "ECF") and the Domestic eSocial took place. The mandatory EFD REINF and eSocial for all companies are scheduled for 2018.
Due to the high complexity and constant updates, DPC offers consulting in the implementation and updating of SPED for companies that need to adapt their systems and procedures to the constant changes in SPED legal mandates.
Adjust to eSocial and EFD REINF: is your company ready?
Count on DPC to adjust your company to eSocial and to EFD REINF requirements. The Federal Government system that unifies the transmission of data and labor obligations will realize a meticulous crossing of information, increasing the risk of penalties to the companies, even if in minimal error.
We have qualified professionals to review the company's records, procedures and internal policies in order to suggest the necessary changes to meet legal requirements. It is a long and complex project. If your company has not started the adjustment to eSocial and EFD REINF, talk to one of our experts.
DPC provides consulting services and technical advice in systemic implementation on the following SPED requirements:
ECD (Accounting Digital Bookkeeping).
EFD - ICMS/IPI (Digital Bookkeeping Records for ICMS/IPI).
NF-e (Electronic Invoice) and other electronic tax documents, such as CT-e, NFC-e, NFS-e, etc.
EFD - Contribuições (Digital bookkeeping for PIS/PASEP and COFINS contributions).
ECF (Accounting-Tax Bookkeeping).
eSocial (Provision of information concerning bookkeeping of tax, Social Security and Labor obligations).
EFD-REINF (Digital Tax Bookkeeping for Withholdings and Other Tax Information).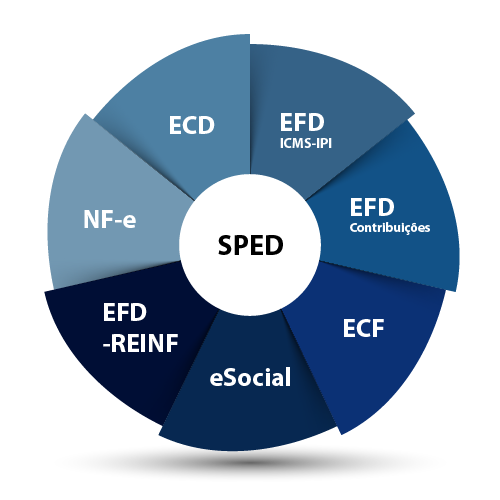 Files Preparation and Transmission
For companies with internal Accounting Department, DPC provides services of analysis, preparation, and transmission of electronic files of the following SPED requirements: ECD, EFD-ICMS/IPI, NF-e, EFD-Contribuições, ECF, eSocial, EFD- REINF.
The company sends the archives in electronic spreadsheets to DPC. Our experts analyze the information; they convert the data into an appropriate format; and then carry out the file transmission complying with the legal terms and standards.
SPED Files Audit
DPC offers audit and reconciliation of the information reported on the archieves generated, in order to fulfill the appropriate ancillary obligation required.
Training, including in company
Workshops and seminars are tailored to the client need, those can be performed at client facilities or at DPC one.
The deadlines for filing up the ECD and the ECF pertaining to 2021 have exceptionally been postponed to the last business day of June and August, respectively.
Sign up for our Newsletter:
DPC's Differentials
Better control. Better management. Better performance.

Expertise
Professionals with highly speacialized knowledge of each area, continuosly updated.

Compliance
With ethics and transparency, in compliance with local and international accounting standards.

Integrated services and efficiency increase
Integration enables data exchange and higher precision, optimizing costs and processes.

Operation in Brazilian Territory and Abroad
37 GBrasil correspondent companies in major Brazilian cities and more than 100 IGAL partners in 45 countries.

Technology
IT tools always up to date, meeting the constant taxes demands, allowing total control, agility and security.

Customized management reports
Customized, meeting each client´s needs, with accurate and reliable indicators for decision-making.
Are you interested?
Please contact us, so we can understand your demand and offer the best solution for you and your company.

Rio de Janeiro
Av. Rio Branco 311, 4º e 10º andar - Centro
CEP 20040-903 | Tel: +55 (21) 3231-3700
São Paulo
Rua do Paraíso 45, 4º andar - Paraíso
CEP 04103-000 | Tel: +55 (11) 3330-3330
Macaé
Rua Teixeira de Gouveia 989, sala 302 - Centro
CEP 27910-110 | Tel: +55 (22) 2773-3318