DPC promotes EFD-Contribuições training
On June 8, Domingues e Pinho Contadores received professionals from MAN Diesel & Turbo for a training in EFD Contribuições. The training was specially designed to meet the company's needs, which has been investing in the qualification of its staff working in the Financial, Taxes and Accounting areas.
EFD Contribuições is a digital file established in SPED, intended to legal entities under private law in the bookkeeping of Pis/Pasep and Cofins contributions calculation of, in cumulative and non-cumulative systems.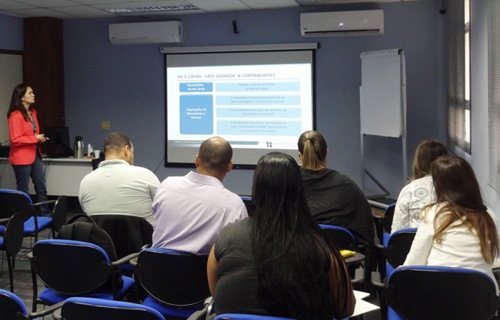 Gisele Severo, DPC's Taxes manager, who held the presentation, recalled that understanding the key concepts of PIS/Pasep and Cofins are critical to the overall understanding of what EFD Contribuições proposes. The manager also highlighted the importance of keeping up to date on current legislation, since the changes related to this taxes modality are constant.
Subsequently, she dealt with issues related to the deadline to file this obligation, exemptions and penalties due to failures in filing or failure to comply with the tax notice, among other points.