Issue your digital certificate with DPC in a simple and quick way
As a registration authority, DPC brings convenience, security, and agility to its clients in issuing and renewing digital certificates
The business environment is getting increasingly more technological and demanding in terms of data flow security. In this scenario, digital certification shows its potential as a resource that attests the electronic identity of individuals and companies, thus replacing traditional handwritten signatures of documents.
What is new is that the Rio de Janeiro branch of Domingues e Pinho Contadores has become a registration authority (RA), and is now able to issue and renew digital certificates. This DPC solution has many advantages, such as:

Learn what a registration authority does
Registration authorities are responsible for verifying and validating all the information and documents required for the process of obtaining a digital certificate.
A dedicated professional (registration agent) provides guidance to clients, fulfilling the necessary steps, and ensuring that the process follows the security standards required for the legal validation of the digital signature device.
DPC is part of the list of registration authorities associated with ICP-Brasil, a public key infrastructure created by the National Institute of Information Technology that enables the issuance and renewal of digital certificates for the electronic identification of citizens.
Types of Digital Certificates
There are two types of Digital Certificates:

Read more: Digital certificate: what is and how to use to meet obligations with the Treasury
Steps for issuing a digital certificate
Depending on the registration status of the interested party, the process to obtain a certification may be carried out in-person or remotely.
In-person attendance at DPC is only necessary if the interested party has no biometric data registered at a government agency. If a registration already exists, which tends to be the norm, the process is even faster and simpler.
DPC is ready to provide support to individuals and legal entities in issuing their digital certificate. Learn the stages of this process below: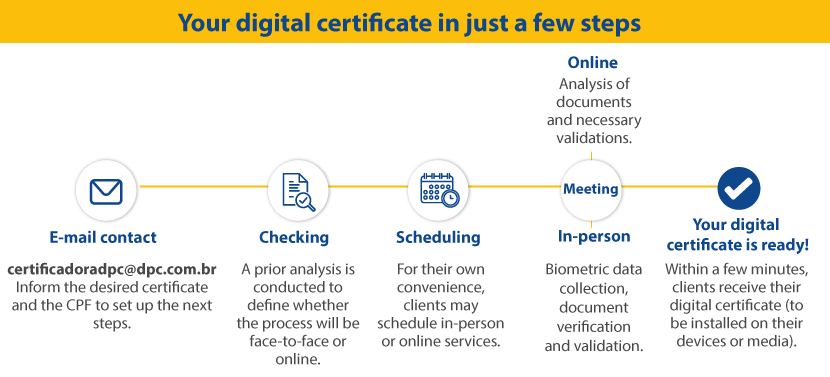 Count on DPC to issue and renew your digital certificate
Besides being mandatory in many situations, having a digital certificate is a great way to cut out the paperwork and maintain security. And now you can count on DPC reliability to carry out this solution. Contact our registration agents: certificadoradpc@dpc.com.br.